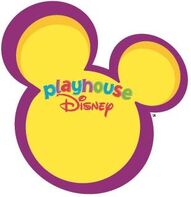 A former subnetwork of Disney Channel in the U.S.,
Playhouse Disney
was a programing block and the broadcaster for all three seasons of the program
PB&J Otter
as well as for repeats for a number of years following the programs end. In non-U.S. markets, Playhouse Disney was a network in its own right and the program is still seen in some incarnations of this network. The block was replaced by
Disney Junior
, Disney Channel's current preschool block, on February 14, 2011.
Sampling of Currently Airing Programs (Now on Disney Junior)
Sampling of Past Programs (PB&J Otter, Stanley, and JoJo's Circus returned on Disney Junior channel)
More to Explore
Ad blocker interference detected!
Wikia is a free-to-use site that makes money from advertising. We have a modified experience for viewers using ad blockers

Wikia is not accessible if you've made further modifications. Remove the custom ad blocker rule(s) and the page will load as expected.