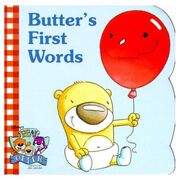 Butter's First Words is a PB&J Otter board book written by Lisa Heath Jinkins. It was released by Mouse Works in September 1999 and was a total of eight pages. The story is about Baby Butter speaking her first words and the cover of the book features Butter sitting down and holding a bright red balloon with a smiley face. The book is targeted at the youngest fans of the show, ones at such a young age that they might not yet be able to actually have any understanding of the story plots.
Stock description: "Butter shows off her vocabulary by demonstrating her very first words--ones that babies and toddlers will readily recognize. 8 full-color spreads."
Given the scarcity of the book, a new copy retails on Amazon.com for well over $300 as of early 2013 and used copies cost over 100.
ISBN-10: 0736401849
ISBN-13: 978-0736401845
Ad blocker interference detected!
Wikia is a free-to-use site that makes money from advertising. We have a modified experience for viewers using ad blockers

Wikia is not accessible if you've made further modifications. Remove the custom ad blocker rule(s) and the page will load as expected.