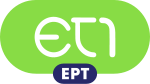 ET1
 was the flagship television network of the
Hellenic Broadcasting Corporation
that launched on February 23, 1966. It was mainly an entertainment channel that broadcasted various types of programming such as news, sports, cultural programs, documentaries and children's shows. It was originally referred to as ERT, but when
NET
launched the name was changed to ET1.
ET1 ceased operations on June 11, 2013 after the Greek government announced its decision to close the network.
Disney Programming
Ad blocker interference detected!
Wikia is a free-to-use site that makes money from advertising. We have a modified experience for viewers using ad blockers

Wikia is not accessible if you've made further modifications. Remove the custom ad blocker rule(s) and the page will load as expected.