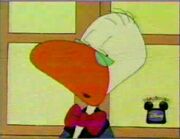 Manfred is a character imagined by Flick in the episode Eye Spy. Since he is only an imaginary character who is briefly seen, very little is known about about Manfred.
Like Flick and his mother, Manfred is a duck. He wears a suit with a red bow tie and lime green glasses who is the butler of Flick's alter ego Glasses Boy. He speaks in a British accent and says "Sir" a lot. 
Ad blocker interference detected!
Wikia is a free-to-use site that makes money from advertising. We have a modified experience for viewers using ad blockers

Wikia is not accessible if you've made further modifications. Remove the custom ad blocker rule(s) and the page will load as expected.