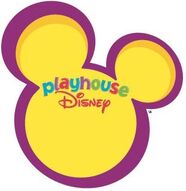 A former subnetwork of Disney Channel in the U.S., 
Playhouse Disney
 was a programing block and the broadcaster for all three seasons of the program 
PB&J Otter
 as well as for repeats for a number of years following the programs end. In some non-U.S. markets, Playhouse Disney was a network in its own right and the program is still seen in some incarnations of this network. The block was replaced by 
Disney Junior
, Disney Channel's current preschool block, on February 14, 2011.
The block went through several logo and programming evolutions during its time on Disney Channel. Its original slogan was "Where learning is powered by imagination."
Sampling of Currently Airing Programs (Now on Disney Junior)
Sampling of Past Programs
PpMore to Explore
Gallery