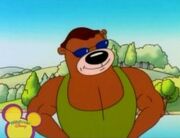 Redolfo is an otter who first appeared in the PB&J Otter episode "Forgive Me Not" from Season 2, where Aunt Nanner called him "guy". For the most part, Redolfo only appeared as a non-speaking character who used excited methods of transportation to bring Aunt Nanner to Lake Hoohaw. Redolfo was never heard speaking until "Peanut Cries 'Uncle'," in which Aunt Nanner revealed that she had fallen in love with him and they were getting married. Peanut wasn't sure how to react to this at first, but with some help from Jelly and Baby Butter, he realized that he could have fun with Aunt Nanner and Redolfo together.
Redolfo speaks with a Latin-American accent. He is almost always seen wearing sunglasses, though he foregoes them for a pair of regular glasses during his wedding to Aunt Nanner. Redolfo may be a bodybuilder or model of some sort, as he is very muscular.
Ad blocker interference detected!
Wikia is a free-to-use site that makes money from advertising. We have a modified experience for viewers using ad blockers

Wikia is not accessible if you've made further modifications. Remove the custom ad blocker rule(s) and the page will load as expected.